Altherma takes heat from the air. No digging or excavation works are required as is the case with ground source heat pumps. Both the outdoor and indoor units are compact and the external unit can be located easily outside any building, including apartments. Without flames or fumes, there is no need for a chimney or constant ventilation in the room where the Altherma indoor unit is installed.
Altherma operates up to 5 times more efficiently than a traditional heating system based on fossil fuels or electricity.
By making use of the heat in the outside air, you use much less energy while still enjoying a stable and pleasant level of comfort. Also, maintenance requirements are minimal ensuring low running costs. Thanks to the inverter technology and in-built weather compensation control Altherma uses; energy savings are even greater than most other heat pump systems.
Altherma can be configured for use in both new and refurbishment applications, and connects to skirting-board heating system, low temperature radiators, under floor heating or fan coil units. This means that whichever heating system you may already have, there is no need to change your existing heat emitters.
Daikin Altherma High Temperature can provide water temperature up to 80°C
Daikin Altherma HT system is a unique cascading heat pump solution that can deliver water temperatures up to 80°C. For many older, harder to heat houses, Daikin Altherma HT can be installed to directly replace the traditional boiler system without the need for other expensive modifications.
Altherma satisfies all your heating and domestic hot water requirements right through the year even on the coldest days. Solar heating panels can be connected to the Altherma system as an option if required. With a fully integrated control system, Altherma will provide consistent comfort with optimum efficiency…and for those long hot summer days Altherma even comes with a cooling option.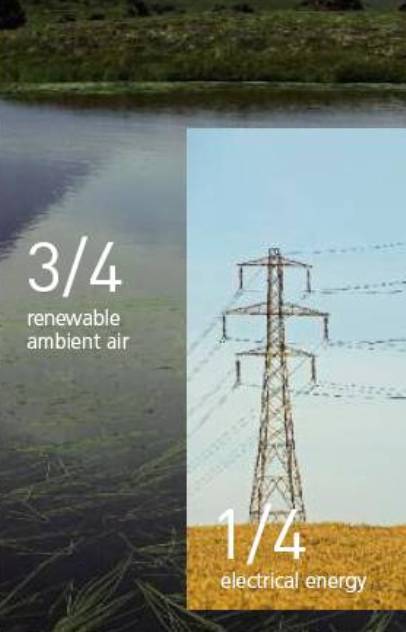 We are becoming increasingly environmentally minded
Traditional heating systems that rely heavily on fossil fuels are increasingly coming under scrutiny due to the battle against CO2 emissions. Stricter European standards regarding heating economy are becoming more relevant. Three quarters of the heat generated by the Altherma system is from a renewable source (the air), so this modern technology will satisfy the needs to reduce CO2 emissions. Even though the heat pump needs some electrical energy to run, Altherma emits far less CO2 than fossil fuel boilers – This means that you can personally contribute to a better environment by using Altherma.